Питание
(60)
Дистрибьюция
(10)
Производство
(146)
Услуги
(323)
Развитие бизнеса
(367)
Прочее
(328)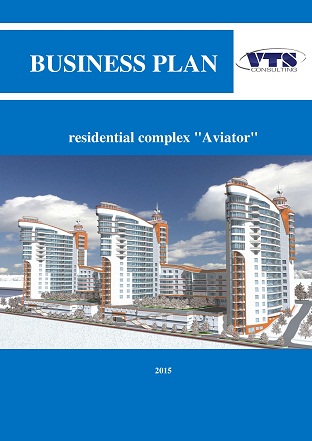 Business plan residential complex "Aviator" (with financial model)
74
Английский
02.03.2015
В электронном виде

Скачать (pdf)
Описание
Содержание
Приложения
Adaptation of this business plan is possible for similar project in Russian Federation, Ukraine and CIS countries.
This business plan includes computer-assisted financial model in Excel. To make re-calculations for a new project, it's enough to change basic indicators of the project. Financial model is built up in such a way that appearance of the new performance indicators of the project can be observed at once, after making changes in existing script. Financial model is simple and comfortable, which allow any person to successfully make calculations for his own project.
Business Plan Description
Project Idea
Construction of residential complex "Aviator"
Project location
Moscow region
Target market
The population of the city is the residents of Moscow region who are ready for the qualitative improvement of living conditions (the purchase of housing for the grown-up children, dilapidated fund and so on).
Specifics of the project
The main characteristics of the project objects
| | | |
| --- | --- | --- |
| Indicator | Unit | Value |
| Number of floors | floors | 9 |
| Number of entrances | entrances | 4 |
| Building area | sq.m | 1 785 |
| Number of flats for sale | pcs. | 226 |
| Number of studio apartments | pcs. | 58 |
| Number of one-bedroom apartments | pcs. | 60 |
| Number of two-bedroom apartments | pcs. | 84 |
| Number of three-bedroom apartments | pcs. | 24 |
Financial indicators of the project
| | | |
| --- | --- | --- |
| Indicator | Unit | Value |
| Revenue | RUB | *** |
| Costs | RUB | *** |
| Gross profit | RUB | *** |
| Net profit | RUB | *** |
| Net present value (NPV) | RUB | *** |
| Internal rate of return (IRR), annual | % | 32,81 |
| Necessary investment | RUB | *** |
| Payback period | quarters | 11 |
| Discounted payback period | quarters | 12 |
Formation of a profitable part of budgets of different levels as a result of the tax deductions payment of project in the amount *** RUB, Including:
| | |
| --- | --- |
| Tax | Sum, RUB |
| VAT | *** |
| Income tax | *** |
| Payroll tax | *** |
Extract from the research
Considering constrained financial opportunities of the target audience, qualitative conditions and affordability of buying new housing will be provided by modern thoughtful planning decisions and by absence of extra space, dark corners, and unused rooms.
The concept assumes focusing on the studio apartments, one-bedroom and two-bedroom apartments which are ideal as a first accommodation for the grown-up children and non-family soldiers. In a smaller proportion two and three-bedroom apartments, comfortable for families with children, will be represented.
***
Studio is a modern version of the apartment layout can accommodate one person or young family without children, also can be a cost-effective solution to the problem of first or temporary housing. The studio apartment functional areas division is not due to the walls, which take space and is associated with a typical housing, but due to decoration and room design- the alternation of different floor coverings, floor height difference, lighting, color of the walls, mobile baffles, etc. Generally studio apartment is convenient and actual housing for young people with an active lifestyle, which can be easily replanned by building more walls over time.
***
In 2014, the housing that has been put into exploitation in Moscow region and in Moscow was more than in the previous year - by 11.5% and 5.8% .
On the results of 2014, Moscow region has the largest share of commissioned housing - 9.7% of the total in all regions of the Russian Federation together.
The main reorientation factors of the population to buy apartments exactly in new buildings in the Moscow region, as well as in New Moscow, rather than in Moscow are reducing purchasing capacity; high accessibility to the capital from settlements of the region; desire to work in Moscow and live outside the city.
Housing prices are increasing steadily. The average offer price in new buildings in Moscow region in January 2015 was 82.6 thousand RUB/sq. m, which is 3.1% more than in November 2014.
The factors forming the new buildings prices are mainly a large distance from the capital. So, in January this year, at a distance of less than 5 km from the capital, the average price on the primary housing market was approximately 98.2 thousand RUB/sq. m and at a distance from 20 to 30 km - 63.6 thousand RUB/sq. m.
The average price of housing in economy class new buildings was 76.0 thousand RUB/sq. m, comfort class - 81.0 thousand RUB/sq. m.
The highest price is for houses built upon the monolithic technology (85.5 thousand RUB/sq.m), the most affordable - in panel houses (77.5 thousand RUB/sq.m).
Apartments cost from 3 to 5 million RUB dominate in the offer structure; traditionally two-bedroom apartments are sold more often, and share of two-bedroom housing exceeds the share of one-bedroom housing with a small margin in the overall offer structure. Developers mostly offer to sell finished flats, share of apartments under construction and in the ditch are in the minority.
Most building companies determine the situation in the industry as satisfactory.
***
Prices on the secondary real estate market vary greatly in different cities, even if they are the same distance from the capital. According to existing advertisement, the average price of housing on the secondary market in assumed district is about 62 760 RUB/sq.m.
The secondary market is not in direct competition with the primary because on the secondary market comfort class offers dominate, and on the primary - economy class.
| | |
| --- | --- |
| List of Tables, Diagrams, Figures and Charts | 3 |
| Executive summery | 4 |
| Chapter 1. Description of the project | 5 |
| 1.1. Name of the project | 5 |
| 1.2. Goals and Objectives of the project | 5 |
| 1.3. Location of the project | 6 |
| 1.4. Description of building area | 6 |
| 1.5. Target audience | 7 |
| 1.6. Conception of the project | 8 |
| Chapter 2. Description and main characteristics of the residential complex | 9 |
| 2.1. Architectural and planning solutions | 9 |
| 2.2. Implementation of an educational program on the basis of a residential complex | 22 |
| Chapter 3. Market analysis | 30 |
| 3.1. The main indicators of residential development in Moscow and Moscow region | 30 |
| 3.2. Analysis of population solvency in Moscow region | 38 |
| 3.3. Analysis of the project coverage area | 38 |
| Chapter 4. Competitive environment | 42 |
| Chapter 5. Marketing plan | 50 |
| 5.1. Sales strategy and program of residential area sales | 50 |
| 5.2. Advertising sales promotion of residential real estate | 53 |
| 5.3. Advertising promotion of the educational program | 58 |
| Chapter 6. Financial plan | 61 |
| 6.1. Assumption of modeling | 61 |
| 6.2. Seasonality by quarters | 61 |
| 6.3. Sales volume schedule | 62 |
| 6.4. Forecast of costs | 66 |
| 6.5. Taxes | 68 |
| 6.6. Forecast of financial result | 70 |
| Information about «VTSConsulting» | 74 |
Tables
| | |
| --- | --- |
| Table 1. Overall description of apartments based on the number of rooms | 9 |
| Table 2. Costs of building of communications | 10 |
| Table 3. Steps of project realization | 10 |
| Table 4. Costs and revenues from the sale *** | 27 |
| Table 5. Costs and revenues from the sale *** | 28 |
| Table 6. Costs and revenues from the sale *** | 29 |
| Table 7. Main indicators of construction in Moscow | 30 |
| Table 8. Main indicators of construction in Moscow region | 33 |
| Table 9. Offers on the secondary real estate market | 42 |
| Table 10. Comparative table of the strengths and weaknesses of competitors of the project | 44 |
| Table 11. Competitors prices | 47 |
| Table 12. Advantages and disadvantages of location *** | 48 |
| Table 13. Structure of real estate sales methods | 52 |
Diagrams
| | |
| --- | --- |
| Diagram 1. Share of regions in the total number of housing put into operation in 2014 | 32 |
| Diagram 2. Prices for new buildings in Moscow region, the quantity of offers for sale | 35 |
| Diagram 3. Under construction apartments in new buildings in Moscow region, the number of new buildings | 36 |
| Diagram 4. New buildings in Moscow region by number of rooms in the apartment, the quantity of new buildings | 36 |
| Diagram 5. The number of new buildings by administrative units in Moscow region | 37 |
Figures
| | |
| --- | --- |
| Figure 1. Location of the project | 6 |
| Figure 2. Map of the area on which the land plot is located | 7 |
| Figure 3. Schematic layout by a typical floor. 1st floor. 1st floor | 12 |
| Figure 4. Schematic layout by a typical floor. 1st floor. 1st floor | 13 |
| Figure 5. Schematic layout by a typical floor. Typical floor. Type 2. 6 floors | 14 |
| Figure 6. One bedroom apartment of 35.19 - 37.88 - 46.11 sq. m. Example 1of planning decision | 15 |
| Figure 7. One bedroom apartment of 35.19 - 37.88 - 46.11 sq. m. Example 2 of planning decision | 16 |
| Figure 8. Example of planning decision. Studio apartment | 17 |
| Figure 9. Examples of technical possibilities for unification of two studio apartments | 18 |
| Figure 10. Two-bedroom apartment | 19 |
| Figure 11. Three-bedroom apartment | 20 |
| Figure 12. Example of internal planning decisions implementing | 21 |
| Figure 13. Simulator cabin *** | 24 |
| Figure 14. Air simulators during assembly | 25 |
| Figure 15. Layout plan *** | 27 |
| Figure 16. Offers on the secondary real estate market | 42 |
| Figure 17. Location of competitors on the map | 47 |
Charts
| | |
| --- | --- |
| Chart 1. Dynamic of putting into operation of residential buildings | 32 |