Питание
(60)
Дистрибьюция
(10)
Производство
(142)
Услуги
(321)
Развитие бизнеса
(365)
Прочее
(328)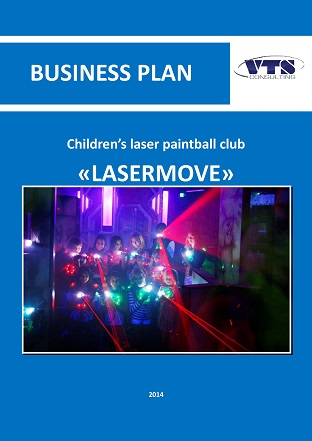 BUSINESS PLAN 'Children's laser paintball club «LASERMOVE»'
76
Английский
31.07.2014
В электронном виде

Скачать (pdf)
Описание
Содержание
Приложения
Project idea
Laser paintball club «LASERMOVE» is oriented to children of preschool and school age, predominantly boys.
Positioning: Club of organizing battles and tournaments in laser paintball, principally oriented to children, including the pre-school and primary school age (since 4-5 years).
Occupations: entertainment (laser paintball).
Types of activity:
85.32 «Provision of social services without accommodation»;
92.3 «Other performing and entertaining activities»;
71.40 «Rental of household goods and personal items».
The key parameters of the project:
The average number of customers (battles) in the month: ***.
The average monthly turnover: *** rubles.
Rent (characteristics of the premises and the cost per month):
technical areas – 500 m2,
piecework rent (by number of man-hours) – *** rubles per month.
Advantages:
a wide selection of scenarios;
high realness and dynamism of laser games;
total safety;
high quality gaming equipment;
experienced instructors;
originality and accessibility of such type of active rest.
Market
Development of laser tag in Russia is gaining momentum. Today in Russia more than 500 clubs have already been opened, and their number is constantly growing. During the last 3 years the popularity of laser tag has grown 10 times and still increasing.
Advantages of laser tag in comparison with paintball and airsoft:
Safe and healthy pastime both outdoors and in the closed area.
Active development of the school and preschool population.
Organization of weekends and holidays.
Competition in St. Petersburg:
«Lasertag 007» (www. ru) – the organizer of laser tag games.
«KiberFoks» (www. ru) – the organizer of laser tag games.
Financial aspects:
Financial indicators of the project

Revenue for 3 years

rub.

***

Necessary investments

rub.

***

Net profit for 3 years

rub.

***

NPV

rub.

***

IRR monthly

%

***

IRR annual

%

***

Payback period

months

22

Discounted payback period

months

26
Excerpts from the research
According to the assessment, there are almost 37 mln. of potential consumers of products of the entertainment industry in Russia. Although not much money in Russia are spent for leisure, but growth of household spending for entertainment events is comparable to the Russians costs for some commodities.
According to the Institute of Comprehensive Social Research, RAS, ***% of Russians use the services of the modern entertainment industry. Among them ***% prefer the home entertainment; ***% devote free time to various kinds of hobbies or meetings with friends. And ***% consider that their opportunities are insufficient for recreation.
| | |
| --- | --- |
| List of tables and figures | 4 |
| Summary | 5 |
| Overview of the company | 7 |
| 1.1. Concept of the project | 7 |
| 1.2. The list of proposed services by the project | 7 |
| 1.3. History and scenarios of game laser tag | 9 |
| Analysis of the market | 14 |
| 2.1. Developments and trends of the entertainment industry in Russia | 14 |
| 2.2. The situation on the market of gaming wars as entertainment industry | 19 |
| 2.3. Potential customers | 21 |
| Competitors of project | 24 |
| 3.1. Major competitors | 24 |
| Marketing Plan | 29 |
| 4.1. Target customers/customer groups | 29 |
| 4.2. Ways to attract customers | 29 |
| 4.2.1. Potential partners | 29 |
| 4.2.2. Direct advertising | 31 |
| 4.2.3. Internet-advertising | 32 |
| 4.2.4. Search Engine Optimization | 33 |
| Production Plan | 36 |
| 5.1. Equipment for the project implementation | 36 |
| 5.2. Site selection for the project | 40 |
| Financial Plan | 43 |
| 6.1. Plan of sales | 44 |
| 6.2. Sales volume | 44 |
| 6.3. Sales revenue | 45 |
| 6.4. Fixed costs | 46 |
| 6.5. Capital expenditure | 47 |
| 6.6. Taxes | 48 |
| 6.7. Profit and loss statement | 48 |
| 6.8. Calculation of discount rate by WACC-method | 51 |
| 6.9. Cash flow statement | 61 |
| 6.10. Estimation of project economic efficiency | 64 |
| Sensitivity analysis | 67 |
| INFORMATION ABOUT THE COMPANY «VTS Consulting» | 76 |
TABLES
| | |
| --- | --- |
| Table 1. Basic indicators of cultural organizations activities (end of year) | 22 |
| Table 2. Main competitors in laser tag in St. Petersburg | 24 |
| Table 3. The main equipment of the project | 38 |
| Table 4. Additional equipment of the project | 39 |
| Table 5. Key assumptions of the project | 43 |
| Table 6. Staffing and salary fund project | 43 |
| Table 7. Sales plan | 44 |
| Table 8. Sales volume | 44 |
| Table 9. Sales revenue from services | 45 |
| Table 10. Fixed costs | 46 |
| Table 11. Capital expenditure | 47 |
| Table 12. Taxes | 48 |
| Table 13. Profit and loss statement | 48 |
| Table 14. Calculation of long-term profits over CAPM for portfolios of decimal groups NYSE/AMEX/NASDAQ | 56 |
| Table 15. Algorithm for determining the risk of the company | 57 |
| Table 16. Algorithm for calculating the specific risk premium | 58 |
| Table 17. Calculation of discount rate by WACC-method | 59 |
| Table 18. Cash flow statement | 61 |
| Table 19. Financial indicators the project | 66 |
FIGURES
| | |
| --- | --- |
| Figure 1. Preferences of leisure activities among residents of the Russian Federation | 15 |
| Figure 2. Queries statistics in Yandex | 20 |
| Figure 3. Number of St. Petersburg for the 2000-2013(pers.). | 22 |
| Figure 4. Equipment for laser tag (vests) | 40 |
| Figure 5. Set of equipment for game | 40 |