Питание
(60)
Дистрибьюция
(10)
Производство
(146)
Услуги
(323)
Развитие бизнеса
(367)
Прочее
(328)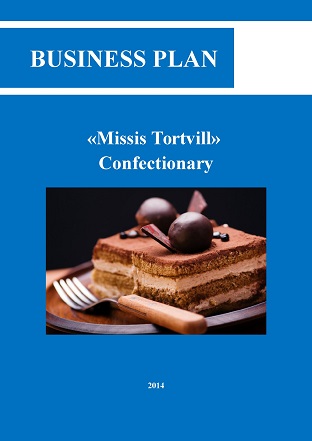 BUSINESS PLAN '«Missis Tortvill» Confectionary' (with financial model)
160
Английский
30.07.2014
В электронном виде

Скачать (pdf)
Описание
Содержание
Приложения
Adaptation of this business plan is possible for similar project around the world.
The financial model in separate file is attached to this business plan, which makes it easy to build a new financial plan by entering the appropriate data.
Business Plan Description
Project idea: Startup of confectionary in Moscow
Project name: «Missis Tortvill».
Basic products categories: cakes to order (all categories), pastries, candy bars, cupcakes, cake-pops, decorative painted gingerbreads, handmade cookies.
Project Audience: the main buyers of confectionary products are:
women of 30-39 years old – 25%;
women of 50-65 years old – 30%;
children and teens under 18 years old – 30%;
men – 15-20%;
Project Geography: Moscow.
Market:
| | |
| --- | --- |
| Leaders of the project industry | Three largest by the revenue producers of bakery and confectionery in Russia are: «Fatser» JSC, «Karavay» JSC and «Kellogg Rus» Ltd. |
| Basic tendency and indicators of consumer demand | Production with three days use made by almost every bakery and confectionary is the absolute market favorite. It is bought by 70% of households while the cakes of long-term storage (more than 2 weeks) – by 6% only. |
| Market growth rate | As for the growth rate of bakery and confectionary industry in Russia in 2014, the indicator value can vary between 3% and 12% depending on tendencies of economic development in the country and favorability of investment climate; herewith the most probable indicator value is expected at the level of 8%. |
Competitive Environment (Moscow):
Confectionary network «Volkonskiy»;
Confectionary «Madame Boulanger»;
Confectionary «Upside Down Cake»;
Confectionary «I Love Cake».
Financial plan of project:
Financial indicators by the project

Revenue for 3 years of operating

RUB

***

Necessary Investment

RUB

***

Net Profit for 3 years of operating

RUB

***

NPV

RUB

***

IRR monthly

%

***

IRR annual

%

***

Payback period

months

16

Discounted payback period

months

18
Excerpts from Research
Project purpose is a startup of «Missis Tortvill» confectionary. The confectionary for production of bakery and preserved pastry goods will be organized in rent premises.
The confectionary is a full-cycle enterprise, i.e. includes all production processes from confectionary provisions forming to shipment of products to the sale or offer points.
Confectionery market of Russia
For today in the market of confectionary and bakery industry the tendency for decrease of products demand is observed, which is associated with the population reduction as well as income growth leading to change of nutrition model.
So, on the territory of Russia *** mln t of bakery and confectionary production were made for the first half of 2013, which is less by 0,39% in comparison with the similar period of previous year.
In the same time bakery of low humidity (bagel products, rusks, toasts, crispbread) show a significant growth of production, the volume of which has increased by 17.42% in comparison with indicators of previous year and composed *** thsd t. Also the stable growth of chocolate and sugary producers is noticed, which has enlarged the volumes of production by 6.5% in comparison with previous year.
Today together with searching and development of new kinds of production and extension of the product range many producers restore the old recipes production. Besides, so-called ecologically clean food gains the increasing popularity among consumers. A modern buyer pays a great attention to quality of foodstuffs, considering their composition and terms of storage. Due to the results of the first half of 2013, the volume of bakery products of long-term storage showed the most significant decrease by 11.08 percentage points and composed *** thsd t against *** thsd t a year ago.
Preserved pastry goods are the products of every day demand. Almost 95% of consumers buy them (mainly cookies and gingerbreads) for daily tea. The main buyers of confectionery products are women of 30–39 years old (about 25%) and 50–65 years old (about 30%). 45% of buyers have school-age children, about 30% are accounted for children and teens under 18 years old, the rest 15–20% are accounted for men.
Older consumers prefer the domestic products mainly purchasing biscuits, sugar cookies and gingerbreads. They still remember the Soviet times, when cookies and gingerbreads had high taste characteristics. The goods themselves have much greater value than their image.
| | |
| --- | --- |
| List of Tables, Figures and Diagrams | 3 |
| Executive Summary | 4 |
| | 6 |
| 1.1. Project Concept | 6 |
| 1.2. Assortment of Confectionary Production | 7 |
| 2.0. Market Analysis of Confectionary Industry | 19 |
| 2.1. Confectionary Market in Russia | 20 |
| 2.2. Consumer Preferences on Cakes and Other Preserved Pastry Goods Market | 31 |
| 2.3. Consumer Portrait | 35 |
| | 37 |
| 4.0. Marketing Plan | 40 |
| 4.1. Specificities of Cream Confectionery Sales | 40 |
| 4.2. Specificities of Production of Confectionary Field | 41 |
| 4.3. The Internet Promotion (Online-Promotion) | 42 |
| 5.0. Operational Plan | 46 |
| 5.1. Project Personnel | 46 |
| 6.0. Production Plan | 47 |
| 6.1. Confectionary Premises | 47 |
| 6.2. Confectionary Equipment | 49 |
| 7.0. Financial Plan | 53 |
| 7.1. Project Assumption | 53 |
| 7.2. Plan of Sales | 55 |
| 7.3. Volume of Sales | 56 |
| 7.4. Sales Revenue | 57 |
| 7.5. Variable Costs | 58 |
| 7.6. Fixed Costs | 58 |
| 7.7. Capital Expenditure | 60 |
| 7.8. Taxes | 60 |
| 7.9. Profit and Loss Statement | 61 |
| 7.10 Calculation of Discount Rate by WACC-Method | 63 |
| 7.11. Cash Flow Statement | 73 |
| 7.12. Estimation of Project Economic Efficiency | 76 |
| 8.0. Sensitility Analysis | 79 |
| Appendix 1. Production of Bread, Bakery and Confectionery Products, Sanitary Rules and Norms SANRAN 2.3.4.545-96 | 90 |
| INFORMATION ABOUT THE «VTSConsulting» COMPANY | 159 |
FIGURES
| | |
| --- | --- |
| Figure 1. Variants of Design Decoration of Confectionary Production (Cake Pops) | 13 |
| Figure 2. Elements and Formation of Wedding Candy Bar | 14 |
| Figure 3. Elements for Formation of Candy Bar | 14 |
| Figure 4. Decoration of Thematic Candy Bar | 15 |
| Figure 5. Variants of Decorative Painting on Handmade Gingerbread | 15 |
| Figure 6. Equipment Location of Confectionary, Variant 1 | 46 |
| Figure 7. Equipment Location of Confectionary, Variant 2 | 46 |
| Figure 8. Basic Financial Indicators | 60 |
| Figure 9. Dynamics of Project Net Profit | 60 |
DIAGRAMS
| | |
| --- | --- |
| Diagram 1. Volume of Bakery Production of Long-Term Storage in the Russian Federation (RF), 2013-2014 | 19 |
| Diagram 2. Districts of RF leading by Bakery and Confectionary Production, Market Share in % | 20 |
| Diagram 3. Dynamics of Bakery and Confectionary Production by Districts of RF, % to 2012 | 20 |
| Diagram 4. Export and Import of Chocolate and Sugary Production in 2013, t | 22 |
| Diagram 5. Export and Import Volume of Preserved Pasty Goods in 2013, t | 23 |
| Diagram 6.Main Countries-Importers of Preserved Pasty Goods in 2013, % | 24 |
| Diagram 7. Monthly Consumption of Cakes by Households, % | 30 |
| Diagram 8. Frequency of Cake Purchase by Target Audience | 31 |
| Diagram 9. Places of Purchase of Preserved Pasry Goods, % of Buyers | 33 |
TABLES