Питание
(60)
Дистрибьюция
(10)
Производство
(146)
Услуги
(323)
Развитие бизнеса
(367)
Прочее
(328)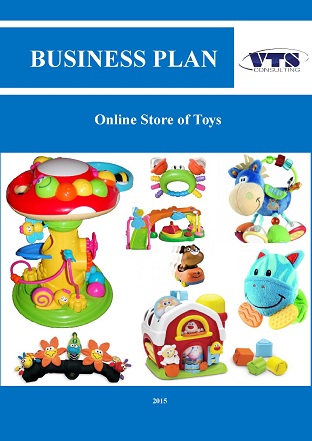 Business plan online store of toys (with financial model)
110
Английский
29.01.2015
В электронном виде

Скачать (pdf)
Описание
Содержание
Приложения
Warning!
Adaptation of this business plan is possible for similar project worldwide.
The financial model in separate file is attached to this business plan, which makes it easy to build a new financial plan by entering the appropriate data.
***
Idea of the project: Within the project, it is planned to open the «IgroShopia» online store of children's toys, which will unite the maximum assortment, affordable pricing (due to the disposal of additional costs for rent of retail space and sales personnel) and also the convenience of payment via various payment systems.
Specifics of the project: Registration of online store requires the purchase of a domain.
Possible addresses of the project website: igroshopia.com, igroshopia.net, igroshopia.org.
Features of online stores comprise:
round-the-clock working without days off and breaks;
no binding to the certain premises;
relatively low staff costs;
possibility of goods demonstration on a single «showcase»;
possibility of demonstration of expected items;
possibility to focus on a specific audience;
accessibility from any geographical point.
Geography of the project: Moscow and Moscow Region.
Audience of the project: the Russians living on the territory of Moscow and Moscow Region, predominantly women of childbearing age, i. e. 21-40 years old (the core target audience).
Competitive environment:
Financial indicators of the project:
| | | |
| --- | --- | --- |
| Indicator | Units | Value |
| Necessary investment | RUB | *** |
| NPV | RUB | *** |
| IRR | % | *** |
| Payback period | years | 2.05 |
| Discounted payback period | years | 2.26 |
Excerpts from Research
The project audience will include the Russians, who live on the territory of Moscow and Moscow Region, predominantly women of childbearing age, i. e. 21-40 years old (the core target audience).
Categories of goods in online store:
interactive toy;
toys for children aged 0-3 years;
educational toy for children;
toy designer for children;
toys for boys;
remote control toys;
board games;
toys for girls;
active games;
children's creativity;
stuffed toy.
The turnover of children's goods market is provided by the constant demand of parents of growing children, who need the update of wardrobe and also the purchase of age-appropriate goods (toys, books and other). The main commodity groups are: toys, clothes, footwear, products for babies, baby food and other children's goods.
For today, among the largest market players in Russia the chain stores (retail chains) are mostly represented, which are universal and sale all categories of children's goods: clothes, furniture, food and toys.
In 2013 the Russian Internet users spent on online purchases *** bln RUB, which is 34% more than in 2012. The total number of online stores, which process the orders of consumers, has amounted to *** thsd. According to the forecasts, in 2016 the market of e-commerce will exceed *** RUB.
By the results of 2013, the number of Internet buyers in Russia has amounted to *** mln people, which is 40% more than in previous year. Nevertheless, the share of product segment of e-commerce in the retail turnover remains insignificant and, according to the expert forecasts, will amount to 2.7% in 2014.
| | |
| --- | --- |
| List of Diagrams, Tables and Figures | 4 |
| Executive Summary | 5 |
| Project Description | 6 |
| 1.1. Assortment of Production | 9 |
| Market Analysis | 11 |
| 2.1. Main Tendencies, Forecasts and Factors of Market Development. | 11 |
| Sales Channels | 13 |
| 2.2. Market of Children's Goods in Regions of the Russian Federation (RF) | 14 |
| 2.3. The Largest Market Players | 15 |
| 2.4. E-Commerce Market in Russia | 16 |
| 2.5. Russian Market of Children's Goods E-Commerce | 18 |
| 2.5.1. Characteristics of Online Buyers of Children's Goods | 19 |
| 2.6. Players of Market of Children's Goods E-Commerce | 24 |
| 2.7. Number of the Project Audience | 26 |
| Competitors and Partners of the Project | 29 |
| 3.1. Competitive Environment | 29 |
| 3.2. Supply of Production | 34 |
| 3.3. Payment Systems | 35 |
| Marketing of the Project | 38 |
| 4.1. Usability of Website | 38 |
| 4.2. Search Engine Optimization | 38 |
| 4.3. Contextual Advertising | 41 |
| 4.4. Social Media Marketing | 42 |
| Organizational Plan | 44 |
| 5.1. Specificity of Online Store | 44 |
| 5.2. Logistics | 46 |
| 5.3. Personnel of the Project | 48 |
| 5.4. Plan of Project Implementation | 49 |
| Financial Plan | 51 |
| 6.1. Assumption of the Project | 51 |
| 6.2. Seasonality of the Project | 51 |
| 6.3. Sales Volume | 52 |
| 6.4. Revenue | 54 |
| 6.5. Personnel | 55 |
| 6.6. Costs | 61 |
| 6.7. Taxes | 65 |
| 6.8. Profit and Loss Statement | 67 |
| 6.9. Calculation of Discount Rate by WACC Method | 70 |
| 6.10. Cash Flow Statement | 81 |
| Sensitivity Analysis | 86 |
| Appendix 1. List of Key Requests on the Project Topics | 92 |
| INFORMATION ABOUT THE «VTSConsulting» COMPANY | 110 |
Table 1. The TOP Most Popular Hosting Providers of Runet

8

Table 2. Advantages of Online Store

10

Table 3. TOP 20 Retail Chains of Children's Goods by Total Retail Space of Outlets at the End of 2013

16

Table 4. Rating of Children's Goods Retail by Revenue in 2012, mln RUB

17

Table 5. Distribution of Children's Goods Buyers by Sex

20

Table 6. Share of Children's Goods Buyers by Age Categories

22

Table 7. Structure of Buyers by Criterion of Household Income, %

24

Table 8. Distribution of Online Stores of Children
's Goods by Product Segments, %

26

Table 9. Activity Indicators of the Largest Online Stores of Children's Goods

27

Table 10. Potential Number of the Project Audience

28

Table 11. Competitive Environment of the Project

31

Table 12. Main Potential Suppliers of the Project

35

Table 13. The Robokassa Service

37

Table 14. Functional of «1С: Managing a Small Firm 8»

46

Table 15. Tariffing of Logistics Service

48

Table 16. Companies Providing the Logistics Services for E-Commerce

48

Table 17. Staff List of the Project

50

Table 18. Calendar Plan of Implementation

50

Table 19. Phased Implementation of the Project

50

Table 20. Calculation of Long-Term Profits over CAPM for Portfolios of Decimal Groups NYSE/AMEX/NASDAQ

76

Table 21. Algorithm of Risk Determination for Estimated Company

77

Table 22. Algorithm of Specific Risk Premium Calculation

78

Table 23. Calculation of Discount Rate by WACC Method

80

Table 24. Main Financial Indicators of the Project

86

Diagram 1. Capacity of Russian Children
's Goods Market in 2008-2013, bln RUB

12

Diagram 2. Children

's Goods Market. Distribution by Commodity Groups, %

13

Diagram 3. Growth of Children's Goods Market by the Main Commodity Groups, %

13

Diagram 4. Sales Channels of Children
's Clothes in Russia

14

Diagram 5. Priority Cities for Development of Leading Chain Companies of Children's Goods Industry, %

15

Diagram 6. «Domestic Markets» of Leading Chain Companies of Children's Goods Industry

16

Diagram 7. Share of E-Commerce in Retail Turnover of Russian Federation, %

18

Diagram 8. Number of Online Stores Working in B2C Segment of E-Commerce in Russia, thsd units.

18

Diagram 9. Distribution of Children's Goods Online Buyers by Sex, %

20

Diagram 10. Distribution in Volume of Purchased Children's Goods and in Volume of All Goods Purchased Online by Age of Buyers

21

Diagram 11. Employment among All Online Buyers

23

Diagram 12. Employment among All Online Buyers of Children's Goods

23

Diagram 13. Distribution of Online Buyers of Children's Goods by Income, %

25