Питание
(66)
Дистрибьюция
(10)
Производство
(150)
Услуги
(333)
Развитие бизнеса
(375)
Прочее
(332)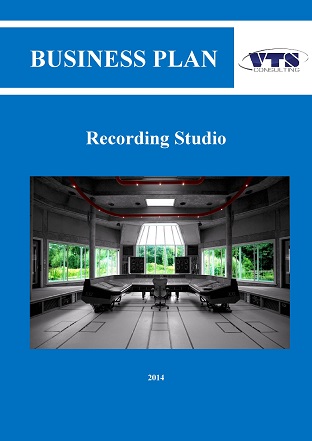 BUSINESS PLAN 'Recording Studio'
61
Английский
30.06.2014
В электронном виде

Скачать (pdf)
Описание
Содержание
Приложения
Adaptation of this business plan is possible for similar project around the world.
Business Plan Description
Project idea: creation of recording studio «***» in Moscow, Russia.
Project audience: vocal performers and bands, professional performers, individuals (individual targets of performance recording), corporative clients (recording of firm anthem), advertising agencies.
Project equipment: the equipment of leading firms – JBL, YAMAHA, PEAVEY, K&MMACKIE, SOUNDCRAFT, BEHRINGER – will be used as the sound equipment of the project.
Object location: recording studio will be located in a rented premises of ** sq. m., which will require an additional refit in connection with the necessity of sound insulation. Additional costs are accounted in the category «capital expenditures» and are included in the financial plan.
Among kinds of promotion and marketing the main means will be promotion with using Internet: social networks, contextual advertising and search engine optimization.
Project calculated period is 3 years.
Basic financial indicators of project:
| | | |
| --- | --- | --- |
| Financial indicatora | Units | Value |
| Revenue for 3 years of work | RUB | *** |
| Necessary investment | RUB | *** |
| NPV | RUB | *** |
| IRR monthly | % | *** |
| IRR annual | % | *** |
| Payback period | months | *** |
| Discounted payback period | months | 24 |
Excerpts from Research
The companies of the middle class are more characteristic for Russia today. Initial investment for creation of such company could amount about $***. Everything will be depended on the chose equipment, cost of repair and specialization of premises, the level of team professionalism and level of salaries.
The before mentioned costs are the minimum, starting from which it is necessary to begin the calculation of budget for opening the studio. Sometimes the costs could grow up $*** mln, especially if the studio is planning the work with live music.
The main orders in this category comes from beginning musicians and corporate clients, the annual turnover in this market segment is about between $*** and $***.
It is more complicated to calculate the annual turnover of home recording studios because it is difficult to estimate the real amount of existing studios in Moscow. According to the different data, between *** and *** of personnel studios and studios of middle level works there.
The annual turnover of home studio reaches $*** in the best case. In the diagram below the comparison of annual turnover of studios of two categories are represented.
It is not necessary to talk about the seasonality of this kind of business, but the experts are referred to the maximum percentage of studio workloading: if the studio is workloaded by ***%, it is a very good indicator.
Herewith 3/4 of orders (***) are accounted for vocal recording and mastering (the process of preparing and transferring of recorded phonogram to any carrier for subsequent replicating).
| | |
| --- | --- |
| List of Tables, Charts, Figures and Diagrams | 3 |
| Executive Summary | 5 |
| | 6 |
| Analysis of Recording market of Russia | 8 |
| 2.1. Main Types of Recording Studios | 8 |
| 2.2. Economy of Music Industry Sphere | 12 |
| Competitive Environmental | 14 |
| | 20 |
| 5.0. Organization Plan | 24 |
| 6.0. Production Plan | 25 |
| 6.1. Premises | 25 |
| 6.2. Repair work and sound insulation | 28 |
| 7.0. Financial Plan | 31 |
| 7.1. Studio Workloading | 34 |
| 7.2. Sales Revenue | 36 |
| 7.3. Project Costs | 38 |
| 7.4. Project Capital Expenditure | 40 |
| 7.5. Project Taxes | 40 |
| 7.6. Profit and Loss Statement | 41 |
| 7.7. Cash Flow Statement | 43 |
| 7.8. Analysis of Project Economic Efficiency | 47 |
| 8.0. Sensibility Analysis of Project | 50 |
| 8.1. Changing of Price for Project Services | 50 |
| 8.2. Changing of Costs Level | 52 |
| 8.3. Changing of Capital Expenditure | 54 |
| 8.4. Changing of Discount Rate | 56 |
| Project General Conclusions | 58 |
| | |
| --- | --- |
| Tables | |
| Table 1. Consolidated Table of Recording Studio Data in Moscow | 18 |
| Table 2. Recording Studio Staff | 26 |
| Table 3. Materials for Sound Absorption and Sound Insulation of Premises | 30 |
| Table 4. Furniture and Home Appliances for Studio Premises | 30 |
| Table 5. List of Basic and Additional Equipment of Studio | 31 |
| Table 6. Assumptions Used in Project Calculation | 33 |
| Table 7. Studio Workloading, the 1st Year of Project Development | 35 |
| Table 8. Studio Workloading, the 2nd Year of Project Development | 35 |
| Table 9. Studio Workloading, the 3rd Year of Project Development | 36 |
| Table 10. Sales Revenue, the 1st Year | 37 |
| Table 11. Sales Revenue, the 2nd Year | 38 |
| Table 12. Sales Revenue, the 3rd Year | 39 |
| Table 13. Project Costs, the 1st Year | 40 |
| Table 14. Project Costs, the 2nd Year | 40 |
| Table 15. Project Costs, the 3rd Year | 41 |
| Table 16. Profit and Loss Statement, the 1st Year | 43 |
| Table 17. Profit and Loss Statement, the 2nd Year | 43 |
| Table 18. Profit and Loss Statement, the 3rd Year | 43 |
| Table 19. Cash Flow Statement, the 1st Year | 45 |
| Table 20. Cash Flow Statement, 2nd Year | 46 |
| Table 21. Cash Flow Statement, the 3rd Year | 47 |
| Table 22. Basic Financial Indicators of Project | 52 |
| | |
| Charts | |
| Chart 1. Dynamics of Revenue and EBITDA of Project | 44 |
| Chart 2. Dynamics of Net Profit of Project | 44 |
| Chart 3. Dynamics of NPV due to Changing of Sales Price | 52 |
| Chart 4. Dynamics of IRR due to Changing of Sales Price | 53 |
| Chart 5. Dynamics of Simple (PP) and Discounted (DPB) Payback Periods due to Changing of Sales Price | 53 |
| Chart 6. Dynamics of NPV due to Changing of Costs Level | 54 |
| Chart 7. Dynamics of IRR due to Changing of Costs Level | 55 |
| Chart 8. Dynamics of Simple (PP) and Discounted (DPB) Payback Periods due to Changing of Costs Level | 55 |
| Chart 9. Dynamics of NPV due to Changing of Capital Expenditure Level | 56 |
| Chart 10. Dynamics of IRR due to Changing of Capital Expenditure Level | 57 |
| Chart 11. Dynamics of Simple (PP) and Discounted (DPB) Payback Periods due to Changing of Capital Expenditure Level | 57 |
| Chart 12. Dynamics of NPV due to Changing of Discounted Rate | 58 |
| Chart 13. Dynamics of Discounted Payback Period (DPB) due to Changing of Discounted Rate | 58 |
| | |
| Figures | |
| Figure 1. Universal Recording Studio | 9 |
| Figure 2. Decorated Recording Project-Studio | 10 |
| Figure 3. Home Recording Studio with Equipment | 10 |
| Figure 4. Layout of Recording Studio, Variant 1 | 28 |
| Figure 5. Layout of Recording Studio, Variant 2 | 29 |
| Figure 6. Layout of Recording Studio, Variant 3 | 29 |
| | |
| Diagrams | |
| Diagram 1. Ratio of Consumption of Recording Studio Services | 13 |
| Diagram 2. Annual Revenue of Recording Studio, $ | 14 |