Питание
(60)
Дистрибьюция
(10)
Производство
(146)
Услуги
(323)
Развитие бизнеса
(367)
Прочее
(328)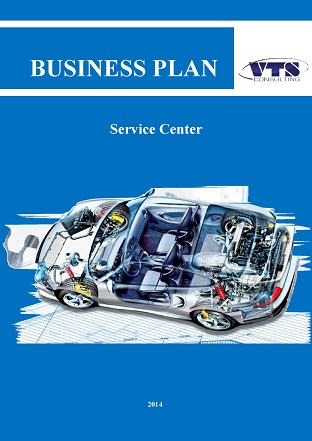 BUSINESS PLAN 'Service Center' (with financial model)
103
Английский
20.08.2014
В электронном виде

Скачать (pdf)
Описание
Содержание
Приложения
Adaptation of this business plan is possible for similar project around the world.
The financial model in separate file is attached to this business plan, which makes it easy to build a new financial plan by entering the appropriate data.
Project Description
Project idea: opening of the center for repair and maintenance service of motor transport in Moscow.
Project targets:
the opening of modern service center;
the sufficient and reliable providing of requirements for the provision of services, and exactly – the annual technical inspection, ТI1 and ТI2;
increase of occupied market niche for the provision of the mentioned type of service, in the city and outside it;
profit optimization with the aim of payback in the shortest time;
maintaining the quality of services and fixing the positive reputation of enterprise.
Unique selling proposition of service center:
a day-and-night mode;
repair services on credit.
Tendency of market of project output:
Independent services hold a great part of Russian market: actually 50% are owned by private companies. The share of official dealers decreases constantly. Thus, in 2009 the share was 20%, in the end of 2013 – 17%.
This fact may indicate that the larger part of car owners is not satisfied by quality of dealers services and more frequently appeals to services of private centers. That's why it is also possible to solve such problem partially.
Project competitive environmental:
car service «AutoTechCenter Barracuda»;
car service «Viktaservis»;
car service «RUSSKY»;
car service «Firma Potomak»;
car service «Logic-auto».
Project financial indicators:
| | | |
| --- | --- | --- |
| Financial indicators | Units | Value |
| Net profit | RUB | *** |
| Revenue for 3 years of work | RUB | *** |
| Necessary investments | RUB | *** |
| NPV | RUB | *** |
| IRR monthly | % | *** |
| IRR annual | % | *** |
| Payback period | months | 23 |
| Discounted payback period | months | 34 |
Excerpts from Research
The leaders by the amount of passenger cars among cities are: Odincovo – 398 cars per 1 000 inhabitants, Voronezh – 370, Lubertsy – 353, Mytishi – 349, Krasnogorsk – 347, Sergiev Posad – 344, Krasnodar – 341, Surgut – 340, Petropavlovsk-Kamchatsky – 333, Obninsk – 330.
The national average is about 257 passenger cars per 1 000 inhabitants of the Russian Federation.
The average age of car in the Russian Federation approached in 2013 to the European average and amounts *** years, which is 0.2 years longer than in 2008 (data of the research, carried out earlier). This fact may indicate that Russian motor-car enthusiasts began to treat their cars with great attention and thrift, and also that the quality of technical maintenance on the territory of the Russian Federation allows the drivers not to change personal transport during this period.
| | |
| --- | --- |
| List of Tables, Figures and Diagrams | 4 |
| Executive Summary | 5 |
| 1.0.Project Description | 7 |
| 1.1. General Characteristics of Services | 8 |
| 1.2. Services Directions of Service Center | 9 |
| 1.2.1. Major Repair of Diesel Engine Cars | 9 |
| 1.2.2. Services of Diagnosis and Flushing of Injectors | 11 |
| 1.2.3. Complex Computerized Engine Diagnostics | 13 |
| 1.2.4. Repair of High Pressure Fuel Pump (HPFP) and Fuel Equipment of Diesel Engine | 14 |
| 1.2.5. Repair of Car Suspension | 14 |
| 1.2.6. Wheel Alignment Services | 15 |
| 1.2.7. Body Repair and Car Painting | 16 |
| 2.0. Market Analysis | 17 |
| 2.1. Analysis of Car Market of the Russian Federation | 17 |
| 2.2. Aftermarket Car Services Market in the Russian Federation | 20 |
| 3.0. Competitive Environmental | 29 |
| 4.0. Marketing Plan | 33 |
| 4.1. Online Promotion | 33 |
| 4.2. Offline Promotion | 36 |
| 5.0. Production Plan | 38 |
| 5.1. Buildings and Premises | 38 |
| 5.2. Equipment for Service Maintenance Stations | 39 |
| 6.0. Operational Plan | 54 |
| 7.0. Financial Plan | 56 |
| 7.1. Project Pricing | 56 |
| 7.2. Project Assumptions | 57 |
| 7.3. Plan of Sales | 59 |
| 7.4. Sales Volumes | 60 |
| 7.5. Sales Price (Cost of Project Services) | 61 |
| 7.6. Sales Revenue | 62 |
| 7.7. Variable Costs | 63 |
| 7.8. Fixed Costs | 64 |
| 7.9. Taxes | 65 |
| 7.10. Profit and Loss Statement | 66 |
| 7.11. Calculation of Discount Rate by WACC-Method | 70 |
| 7.12. Cash Flow Statement, RUB. | 80 |
| 7.13. Justification of Project Economic Efficiency | 85 |
| 8.0. Project Sensibility Analysis | 88 |
| Information about the «VTSConsulting» Company | 100 |
Tables
| | |
| --- | --- |
| Table 1. Amount of Cars of the Russian Federation by year of release (on 01.01.2011) | 18 |
| Table 2. Passenger Car Park in the Russian Federation (on 01.01.2013) | 19 |
| Table 3. List of Major Competitors of Service Center Project | 32 |
| Table 4. Basic Equipment for Service Center Functioning | 40 |
| Table 5. Staff Schedule of Enterprise | 54 |
| Table 6. Price-Current for Main Types of Works | 56 |
Figures
| | |
| --- | --- |
| Figure 1. Example of Placement of Outdoor Advertising (Billboards) on Motorway | 37 |
| Figure 2. Interior Placement of Service Center Objects | 38 |
| Figure 3. AE&T F4D-4 4 Rack Electrohydraulic Hoist with Load Capacity 4 t.. | 42 |
| Figure 4. Hunter PA100/17N-DSP508 Stand «Wheel Alignment» with 8 Infrared Sensors | 44 |
| Figure 5. Titan (Konig) 78 D 00 ROLLER MAXI Universal Stand (Saw) for Straightening and Rolling of Discs up to 19" | 47 |
| Figure 6. GL-1 Coloration-Drying Chamber | 49 |
Diagrams
| | |
| --- | --- |
| Diagram 1. Dynamics of Amount of Passenger Cars per 1 000 Inhabitants of the Russian Federation, units | 17 |
| Diagram 2. Indicators of Average Age of Car in Russia in 2008 and 2013 | 22 |
| Diagram 3. Distribution of Russian Cars Park by Term of Operation | 23 |
| Diagram 4. Difference in Average Mileage for 1 Car | 24 |
| Diagram 5. Use of Kinds of Fuel in Russian Cars Park | 25 |
| Diagram 6. Use of Internet for Purchase of Auto Accessories | 25 |
| Diagram 7. Structure of Services Attendance by Directions and Forms of Ownership | 26 |
| Diagram 8. Dynamics of Revenue, EBIT, EBITDA of Project | 68 |
| Diagram 9. Dynamics of Net Profit of Project | 69 |