Питание
(60)
Дистрибьюция
(10)
Производство
(146)
Услуги
(323)
Развитие бизнеса
(367)
Прочее
(328)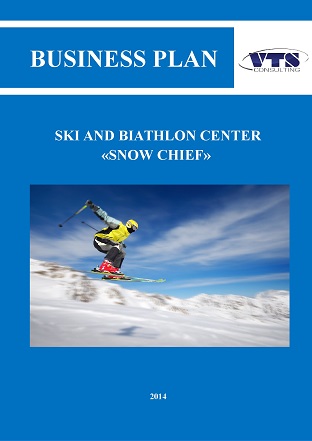 BUSINESS PLAN 'SKI AND BIATHLON CENTER «SNOW CHIEF»' (with financial model)
122
Английский
12.08.2014
В электронном виде

Скачать (pdf)
Описание
Содержание
Приложения
Adaptation of this business plan is possible for similar project worldwide.
The financial model in separate file is attached to this business plan, which makes it easy to build a new financial plan by entering the appropriate data.
Project Idea
Construction of a tourist competitive center of ski racing and biathlon.
Ski and biathlon center «Snow Chief» will be a training facility for sportsmen of all Russian regions, will allow to successfully prepare the sports reserve, will give the opportunity to carry out the competitions of the Russian Championship, the Continental Cup, the World Cup and the World Championship levels.
Preconditions and Rationale for the Choice of Project Geography
Natural conditions and landscape of the area were determining factors for the construction of the skiing, recreation and tourism center. The main characteristics: natural hilly terrain at an altitude of 200 m above sea level; moderately continental climatic conditions; the average temperature in January: - 13Со; predominance of easterly winds; the average wind speed in the winter does not exceed 4m/s; summer climate is dry and favorable.
Client Groups
professional sportsmen and teams;
amateur sportsmen- newcomers;
tourist groups (the companies of a few people);
couples, families with children;
corporate clients.
Infrastructure
Sports, non-residential and recreational facilities: ski-cross tracks, snowboard park with lighting, tubing park, sprint circles, service center with the ski equipment and snowboard rental point, cafe, hockey court, a mini football field, snowmaking system, parking system, chronometer system, parking for 400 cars.
Residential buildings and room fund of the project: two-stored economy class hotel, hotel complex.
Finance
| | | |
| --- | --- | --- |
| Project efficiency estimation | Units. edited. | Value |
| NPV | RUB | *** |
| IRR quarterly | % | *** |
| IRR annual | % | *** |
| Payback period | qtr. | 14 |
| Discounted payback period | qtr. | 23 |
Excerpts from the Research
Considering the foregoing landscape and climatic characteristics and also global warming factor, including the Russian territory, it can be concluded that the relief, the thickness of the snow cover, ratio of frost and frost-free days on the development territory approve the right choice of ski and biathlon center location.
Climatic conditions stability of ski and biathlon center location is unusually high. Ski and biathlon center shows better indicators considering the frosty period lasting and stable snow cover (SSC) in comparison with other ski complexes, where carrying out of competitions are also possible.
Weather and climatic factors are the main problems almost of any ski tracks. Characteristics of development territory, such as the longest winter season (5-6 months), late snow melt (the end of April – the beginning of May) and early formation of snow cover in Autumn (19th-20th of October) demonstrates qualitative advantage of ski and biathlon center «Snow Chief».
Analyzing the competitors, their strong and weak sides, price policy, tracks and room fund allows to make conclusions, which are represented below:
There are only three large centers in Russia, which could be the competitors of the project: Republican Complex named after R. Smetanina (Syktyvkar, Komi) of republican level, Sports and Recreation Centre «Demino» (Yaroslavl region) of international level and the Regional Winter Sports Center «Zhemchuzhina Sibiri» which is situated in Tumen.
Complexes characteristics are: a well-developed infrastructure, high attractiveness for tourists, possession of ski and ski-roller tracks.
The following characteristics can be noted among weak sides: a small number of rooms (it means that centers could not place a necessary number of participants and fans during the carrying out of the large-scale competitions) – except «Zhemchuzhina Sibiri» (580 places); high prices for accommodation and meals – «Demino»; logistics restriction – Republican Complex named after R. Smetanina (only airlogistics), geographical distance – «Zhemchuzhina Sibiri».
| | |
| --- | --- |
| List of Figures and Tables | 4 |
| Executive Summary | 6 |
| Project Description | 8 |
| 1.1. Project Concept | 8 |
| 1.2. Prospects of Development of Professional Sports Sphere in Russia | 9 |
| 1.3. Regional Climatic Characteristics of Ski Center Location | 13 |
| Territorial Infrastructure of Ski and Biathlon Center | 17 |
| 2.1. Sport, Non-residential and Recreational Facilities | 17 |
| 2.1.1. Ski-cross Tracks | 17 |
| 2.1.2. Snowboard Park with Lighting | 17 |
| 2.1.3. Tubing Park | 18 |
| 2.1.4. Ski Tracks | 21 |
| 2.1.5. Sprint Circles | 22 |
| 2.1.6. Security House | 23 |
| 2.1.7. Service Center with the Ski Equipment and Snowboard Rental Point | 23 |
| 2.1.8. Cafe (100 seats) | 25 |
| 2.1.9. Cafe – «Winter Arbor» (40 seats) | 26 |
| 2.1.10. Hockey Court | 27 |
| 2.1.11. Mini-football Field | 28 |
| 2.1.12. Snowmaking System | 29 |
| 2.1.13. Parking System | 31 |
| 2.1.14. Chronometer System | 32 |
| 2.1.15. Parking for 400 Cars | 34 |
| 2.2. Residential Buildings and Room Fund of the Project | 36 |
| 2.2.1. Two-stored economy class hotel «Snow Chief» | 36 |
| 2.2.2. Hotel Complex «Snow Chief» | 38 |
| Competitive environment | 41 |
| 3.1. Existing Competitors Analysis in the Russian Federation Territory | 41 |
| 3.2. Republican Complex named after R. Smetanina (Syktyvkar) | 41 |
| 3.3. Sports and Recreation Centre «Demino» | 50 |
| 3.4. Tumen Regional Winter Sports Center «Zhemchuzhina Sibiri» | 64 |
| 3.5. Comparative Analysis of Similar Projects | 68 |
| 3.6. Pricing Analysis of Similar Projects | 72 |
| 3.7. Strong and weak points of Similar Projects | 80 |
| Marketing strategy | 82 |
| 4.1. Main Client Groups of Project | 82 |
| 4.2. Methods of Sales Promotion | 83 |
| 4.3. Advertising Policy and PR-activities Program | 85 |
| 4.4. Advertising Budget | 98 |
| Production Plan | 100 |
| 5.1. Specialized Equipment for Ski Center Service | 100 |
| Financial Plan | 103 |
| 6.1. Pricing Principle | 103 |
| 6.2. Determination of the Initial Value of Recreational Services | 103 |
| 6.3. Assumptions | 106 |
| 6.4. Investment Costs | 109 |
| 6.5. Financial Plan | 110 |
| 6.6. Project Efficiency Estimation | 118 |
| INFORMATION ABOUT THE «VTS Consulting» COMPANY | 122 |
Figures
| | |
| --- | --- |
| Figure 1. Snowboard Park | 18 |
| Figure 2. Tubing Park | 19 |
| Figure 3. Tubing Park Building | 20 |
| Figure 4. Main Ski Tracks | 22 |
| Figure 5. Cafe «Snow Chief» (100 seats) | 25 |
| Figure 6. Cafe «Snow Chief» (40 seats) | 26 |
| Figure 7. Hockey Court | 27 |
| Figure 8. Mini-football Field | 28 |
| Figure 9. Parking System Device in Parking Complex | 31 |
| Figure 10. Variants of Car Placement in Hotel Complex Parking | 35 |
| Figure 11. Scheme of Car Placement in Parking | 36 |
| Figure 12. Hotel Complex Dining Room | 38 |
| Figure 13. Interior of Hotel Complex «Snow Chief» | 39 |
| Figure 14. Republican Ski Complex Placement | 42 |
| Figure 15. Top View of Complex named after R. Smetanina | 43 |
| Figure 16. Objects Placement Scheme of Republican Ski Complex | 44 |
| Figure 17. Distance of 5 km Classic, Free Style Scheme | 45 |
| Figure 18. Management and Personnel Structure of Complex named after R. Smetanina | 46 |
| Figure 19. Sports and Recreation Centre "Demino" on Map | 51 |
| Figure 20. Objects Placement Scheme in the Territory of Sports and Recreation Centre «Demino» | 53 |
| Figure 21. Center «Demino» Track | 54 |
| Figure 22. Track 10 km, Center «Demino» | 55 |
| Figure 23. Reductively-cross Track of Center «Demino» | 55 |
| Figure 24. General Development Plan of Center «Zhemchuzhina Sibiri» | 65 |
| Figure 25. Biathlon Track Scheme of Center «Zhemchuzhina Sibiri» | 66 |
| Figure 26. Example of Outdoor Advertising (billboards) Placement on Motorway | 90 |
| Figure 27. Example of Firewall Placement on Building and Branding of Inland Territory | 92 |
| Figure 28. Example of Tickets Cover with the Advertising Information | 93 |
| Figure 29. Rathrak Everest POWER (Production Prinoth AG) | 101 |
| Figure 30. Rathrak BOMBARDIER INC | 102 |
Tables
| | |
| --- | --- |
| Table 1. Events List of Sport and Recreation Center «Demino» for 2014 | 56 |
| Table 2. Comparative Analysis of Complexes Main Parameters | 69 |
| Table 3. Cost of Accommodation in Hotel and Cottage Settlement of Complex named after R. Smetanina | 72 |
| Table 4. Price List of Paid Services Provided by Republican Ski Complex named after R. Smetanina | 73 |
| Table 5. Cost of Accommodation in Hotel and Cottage of Sports and Recreation Centre «Demino» | 75 |
| Table 6. Cost of Cottages Renting of Centre «Demino» | 75 |
| Table 7. Sites and Other Additional Services Rent of Sports and Recreation Centre «Demino» | 76 |
| Table 8. Cost of Services of Center «Zhemchuzhina Sibiri» | 77 |
| Table 9. Advantages and disadvantages of analogues projects | 80 |
| Table 10. Advertising budget of Ski and Biathlon Centre (SBC) «Snow Chief» | 99 |
| Table 11. Price List of the Main Recreational Services of SBC «Snow Chief» | 103 |
| Table 12. Cost of Lift Services | 104 |
| Table 13. Cost of Instructors and Support Services | 104 |
| Table 14. Cost of Service «Picnic Glade» | 104 |
| Table 15. Price List of Tourist Equipment Rent | 105 |
| Table 16. Price List of Sports Equipment Rent | 105 |
| Table 17. Accommodation Prices in Hotel Complexes SBC «Snow Chief» (RUB/day) | 105 |
| Table 18. Project Economic Assumptions | 109 |
| Table 19. Project Investment Costs | 109 |
| Table 20. Project Efficiency Indicators | 120 |