Питание
(60)
Дистрибьюция
(10)
Производство
(146)
Услуги
(323)
Развитие бизнеса
(367)
Прочее
(328)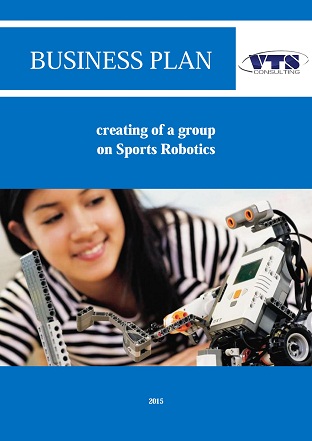 Business plan creating of a group on Sports Robotics (with financial model)
84
Английский
24.02.2015
В электронном виде

Скачать (pdf)
Описание
Содержание
Приложения
Adaptation of this business plan is possible for similar project in Russian Federation, Ukraine and CIS countries.
This business plan includes computer-assisted financial model in Excel. To make re-calculations for a new project, it's enough to change basic indicators of the project. Financial model is built up in such a way that appearance of the new performance indicators of the project can be observed at once, after making changes in existing script. Financial model is simple and comfortable, which allow any person to successfully make calculations for his own project
Description of the business plan
Main idea of the project: opening of educational robotics sports (competitive) center for schoolchildren and adults.
Target market: ***
Target audience: families with average income, who have school-age children, students and young people under 25 years.
Main types of services:
construction of robots on the HUNA platform;
modeling, construction, programming on the Lego Mindstorms EV3 platform;
construction of robots on the Arduino platform;
Major competitive advantages:
systematic training of children for regional and all-Russia robotics and lego constructions competitions;
high quality of the material and technical base: brand new equipment and constructors for training;
well-qualified teachers;
every teacher has 3 groups of students, that gives an opportunity to memorize each student and choose an individual approach to the development of his abilities;
minimal number of children in group among all existing clubs on sports robotics in the city – 4 people, which gives an opportunity to pay maximum attention to each child;
project is not limited by teaching only children – adults also can attend lessons;
all students are divided into age categories, thus child or youth will feel comfortable and interested among the people of the same age.
Quantity of created workplaces: 8.
The amount of taxes paid to the budgets of different levels: 1 092 240 RUB
Forecasted full capacity of the project: 64 students – 256 000 RUB per month.
Duration of preparation period: 1 month
Yield of the planned targets of work: 3 month
Financial indicators if project:
| | | |
| --- | --- | --- |
| Indicator | Unit | Value |
| Necessary investment | RUB | 418 638 |
| NPV | RUB | *** |
| IRR | % | *** |
| Payback period | months | 10 |
Extract from the research
Sports Robotics is an interdisciplinary field of human activity (electronics, controllers programming, design of complex systems, and management of complex projects). The adjective "sports" refers to the competitive nature of the educational process that is such educational programs aimed not only to teach technical knowledge, but first of all to be able to apply them effectively in practice. Participation in such activities could teach children and adults to succeed in real high-tech projects with tight deadlines and high demands.
One of the main stimuli is successful participation in various competitions. It is supposed to pay much attention to creating the atmosphere of generation, friendly discussion and implementation of the ideas. Amount of children and young people engaged in additional training is 95% of the total number of population aged 5 to 18 years in ***[1].
According to the recent data, in *** there are 175 institutions that offer services of additional education with more than 150 thousand of children. 29.9% of these children attend artistic circles (study groups), 25.2% of them are attracted by sports and only 7.9% of children are keen on technical creativity. More than 20 institutions in the city implement educational programs connected with Robotics and Lego bricks construction where 3.3% (or about 5000) of children study.
***
Robotics as a competitive movement began to go forward in Russia since 2002, and there were over 3 thousand teams in the country in 2014. Significant fact is that the Russian teams which represent their country at the international level consist of schoolchildren by 70-80%, while most of the teams from Europe and the United States of America are students' teams.
***
More than half of parents send their children for additional training because they (children) like it (diagram below) according to the monitoring of the education economics in the regions. Harmonious development of a child is the goal of 43% of families that give their children to additional training. But this goal tends to fall by the wayside in high school. Approximately in one of five families they see a pragmatic goal in such trainings: so that the child should study better. The same number believes that it will help to enter the university or college (this index is even higher in high school). Almost no one admitted that such trainings were forced by the teachers.
According to the same study parents spend about 2.1 thousand RUB per month for additional school classes in the regions or about 2.4 thousand RUB if these trainings are held out of school.
Seven parents out of ten in private schools are willing to pay more for training under certain conditions despite the relatively high cost. And more than 60% of parents would also agree to pay for studying under certain conditions at public schools. These certain conditions for the citizens of the Russian Federation are: fewer amount of students in one group (16.7%), higher qualification of the teachers (12.2%), increase in teachers staff (3.7%), improvement of the material resources (20.5 %).
***
Market size of additional education is more than 3 billion RUB per year and the market size of services for conducting classes on Robotics is more than 100 million RUB in ***.
***
The main methods for promotion of the project will be presentations in local schools, advertising through printed matters (leaflets, flyers), targeted contextual advertising as well as the creation of groups in social networks "Odnoklassniki" (for parents) and "VKontakte" (for the schoolchildren themselves).
[1] http://krao.ru/rb-topic_t_54.htm#
| | |
| --- | --- |
| List of Figures, Diagrams, Tables and Charts | 4 |
| Executive Summary | 6 |
| Chapter 1. Description of services | 8 |
| 1.1. Relevance of the project | 8 |
| 1.2. Robotics as sports direction | 8 |
| 1.3. Idea of the project | 9 |
| 1.4. Goals of the project | 10 |
| 1.5. Specifics of the project | 10 |
| Chapter 2. Retail market analysis | 11 |
| 2.1. Part of children with additional education in г. *** | 11 |
| 2.2. Development of Sports Robotics | 11 |
| 2.3. Strategies of schoolchildren parents | 12 |
| 2.4. Capacity of the market | 15 |
| Chapter 3. Competitive Environment | 17 |
| 3.1. Main competitors | 17 |
| 3.2. Advantages of the project over its competitors | 19 |
| Chapter 4. Marketing plan | 21 |
| 4.1. Presentations in schools | 21 |
| 4.2. Contextual advertising | 21 |
| 4.3. Social network advertising | 23 |
| 4.4. Advertising through printed matters | 24 |
| Chapter 5. Production plan | 25 |
| 5.1. Calendar of training schedule | 25 |
| 5.2. Investment costs | 31 |
| 5.3. Current costs | 31 |
| 5.4. Plan of personnel | 31 |
| Chapter 6. Organizational Plan | 32 |
| Chapter 7. Financial Plan | 33 |
| 7.1. Project Assumption | 33 |
| 7.2. Project seasonality | 34 |
| 7.3. Plan of Sales | 35 |
| 7.4. Sales Revenue | 37 |
| 7.5. Personnel of the project | 39 |
| 7.6. Costs | 43 |
| 7.7. Taxes | 46 |
| 7.8. Capital Expenditure | 49 |
| 7.9. Profit and Loss Statement | 50 |
| 7.10. Discount Rate | 53 |
| 7.11. Cash Flow Statement | 64 |
| 7.12. Cash Flows | 67 |
| 7.13. Main financial indicators | 67 |
| Chapter 8. Sensibility Analysis | 70 |
| Appendix 1. Sports Robotics competitions calendar in 2015 | 78 |
| Appendix 2. Assessment of advertising budget for "Yandex.Direct" | 79 |
| Information about «VTSConsulting» | 84 |
Tables
| | |
| --- | --- |
| Table 1. Palace of pioneer and schoolchildren *** profile | 17 |
| Table 2. Profile of the «Secondary school №**» | 17 |
| Table 3. Profile of the «***» | 17 |
| Table 4. Profile of the «Secondary school №**» | 18 |
| Table 5. Profile of the «***» | 18 |
| Table 6. Profile of the youth center «***» | 18 |
| Table 7. Profile of the «***» | 18 |
| Table 8. Profile of the «***» | 19 |
| Table 9. Profile of the Station of young technicians №1 | 19 |
| Table 10. Reference academic calendar schedule. Age groups: 6-10 years. First year of study | 25 |
| Table 11. Reference academic calendar schedule. Age groups: 6-10 years. Second year of study | 25 |
| Table 12. Academic calendar schedule. Age groups: 10-16 years. First year of study | 27 |
| Table 13. Academic calendar schedule. Age groups: 10-16 years. Second year of study | 27 |
| Table 14. Academic calendar schedule. Age groups: 14-25 years. First year of study | 28 |
| Table 15. Academic calendar schedule. Age groups: 14-25 years. Second year of study | 29 |
| Table 16. Necessary equipment | 31 |
| Table 17. Fixed costs | 31 |
| Table 18. Salary fund | 31 |
| Table 19. Calculation of long-term returns over CAPM for portfolios of decimal groups NYSE/AMEX/NASDAQ | 58 |
| Table 20. The algorithm for determining the degree of risk of the target firm | 59 |
| Table 21. The algorithm for specific risk premium assessment | 61 |
| Table 22. The calculation of the discount rate using WACC method | 62 |
| Table 23. Main financial indicators of the project | 69 |
| Table 24. Calendar of national Russian and international competitions in Sports Robotics in 2015 | 78 |
| Table 25. Calculation of advertising budget for "Yandex.Direct" | 79 |
Diagrams
| | |
| --- | --- |
| Diagram 1. Motives for visiting additional classes (Russian Federation regions) | 12 |
| Diagram 2. Motives for visiting additional classes (all Russia) | 13 |
| Diagram 3. Average costs of additional education for 1 child (Russian Federation regions), thousands RUB per month | 13 |
| Diagram 4. Average costs of additional education for 1 child depending on the age (all Russia), thousands RUB per month | 14 |
| Diagram 5. Average costs of additional education for 1 child depending on the type of the main educational institution (all Russia), thousands RUB per month | 14 |
| Diagram 6. Conditions, under which the parents are willing to pay more for their children's education | 15 |
Charts
| | |
| --- | --- |
| Chart 1. Statistics of search request "robotics" by cities | 23 |